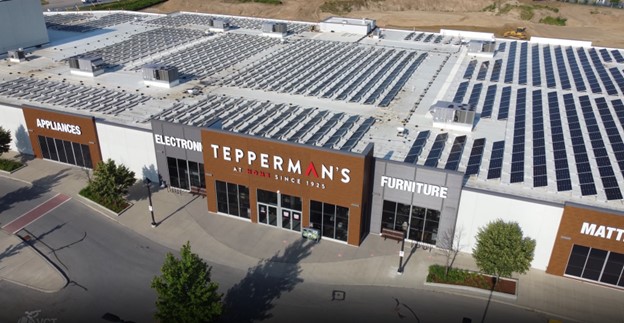 Tepperman's Adds Solar Panels to Kitchener Store Rooftop
By Michael J. Knell
Sustainability has been a brand promise for Tepperman's, the six-unit furniture, mattress, appliance and electronics retailer based in Windsor, Ont., for the better part of a decade. Indeed, the family owned-and-operated company has received numerous accolades for its efforts to increase its own environmental efficiency in recent years.
"For Tepperman's, sustainability is a promise and a commitment we make to create a healthier environmental future, driving us towards practices that ensure a better tomorrow," the company proclaims on its web site. "Sustainability is not an afterthought. It is part of our intentional demonstration of how we are addressing the climate crisis. Through both reducing our greenhouse gas emissions in alignment with the Paris Accord and by constantly reviewing our waste diversion options to keep as much material out of landfills as possible."
For Andrew Tepperman, the retailer's third generation president, nothing could be more intentional, more visible, and more impactful than shifting away from the electricity grid generated by Ontario Hydro to using renewable energy to power store operations.
Recently, they took the first step on this journey with the installation of 914 solar panels on the roof of their store in Kitchener, which will provide upwards of 95% of its electricity needs – and through additional conservation efforts may be able to power the store completely.
"Investing in our first renewable solar energy project is exciting. It aligns with our 10-year vision of helping to make our small region of the world a little better. We hope it inspires others to think about how we want our future to look and feel," Tepperman told Home Goods Online, adding the return on investment for this project is about eight years.
He also noted planning the project took time and three of Tepperman's six locations were considered for the project. Windsor and London were also in the running before Kitchener was chosen.
"Kitchener was selected due to the age of the building and the grid availability to accept the electricity that our panels will generate," he explained. "Our solar installation will be a net-metering install; we will generate electricity and feed it into the local grid and that generation will be offset against our electricity consumption.
"At the end of the year, we will only pay for the 5% or so of electricity that we were not able to generate," he added.
The installation was carried out by VCT Group, a Kitchener-based designer and producer of solar panels, EV charging stations and similar equipment. Their engineers carefully planned where the panels were to be installed, ensuring to account for shading from our higher roof structure and to ensure that there would be easy access to our roof-top HVAC units, drains and other infrastructure.
The process began in early May when a crane was used to lift all the needed materials onto the roof to start the construction process. Once the material was in place, the supports and ballasts were installed ready to receive the panels.
After the panels were installed, the crew installed and wired the inverters that will be used to feed the energy produced to the transformer and into the energy grid.
Tepperman reports the project is now in the commissioning phase. "Our expectation is we will be generating electricity and feeding that back into the grid by the middle of August," he said. "We are thrilled to have this sustainability story to tell. We will always look for other ways to have a greater impact in the communities we serve."
The retailer, one of the few of its size with a full-time sustainability manager, has several other environmental initiatives underway. The two best examples being the installation of courtesy electric vehicle charge stations at every Tepperman's location. Three have bee-friendly pollinator gardens including one at its London store covering some 25,000 square feet.
"If every Canadian retailer focused on this, we could move the environmental needle," Andrew Tepperman believes, adding they were just short-listed by the London Chamber of Commerce for this year's Environmental Company of the Year award.
Last year, Tepperman's joined Green Economy London, one of seven Green Economy Hubs across Ontario. These groups were set up to support networks of local businesses set and achieve sustainability targets. The retailer was recently named its 2021 Rookie of the Year.
This wasn't its first accolade. In 2020, Tepperman's received the Corporate Social Responsibility award from London's Chamber of Commerce. This award recognized Tepperman's for creating responsible business practices in an economic, social, and environmentally sustainable manner, while making a positive impact in the communities where we live, work and play. The chamber presented the retailer with its Environmental Leadership award in 2018.
In 2019, it was given the Corporate Environmental Achievement Award from the Essex Region Conservation Authority.
Tepperman's also published its first-ever Sustainable Business report in 2020. It can be found on its web site – teppermans.com. The company also aims to divert 80% of all the waste it generates away from landfill before 2025. In2020, the last year for which figures are available, Tepperman's only sent 27% of the waste it generated to landfill – 52% was recycled and 21% was reused, primarily through the donation or used and returned furniture to the Habitat for Humanity ReStore organization.