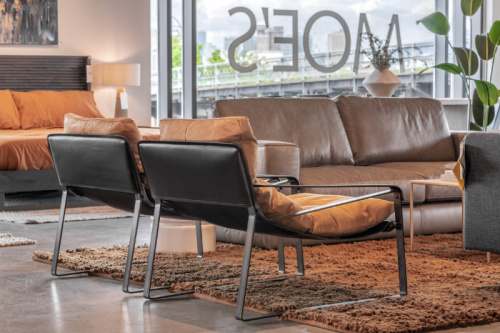 Although many people have resumed traveling following two years of rolling COVID-19 lockdowns, Moe's Home Collection, the family-owned and run modern furniture wholesaler and retailer based here, is welcoming customers the opportunity to see its products first-hand in its newly opened headquarters showroom.
The new showroom, which spans three floors and covers about 30,000 square feet, opened in early May.
"We've had the building for many years," Sara Samieian, co-chief executive officer of Moe's Home Collection, told Home Goods Online. "We wanted an opportunity for our customers closer to our home base to come shop here so they don't have to go all the way to High Point or Las Vegas. They can come out to Vancouver and meet our entire team, as they're all here. It's great, especially for western Canada and western U.S. customers."
Moe's Home Collection, which was founded by Moe Samieian Sr. (and originally called Moe's Fine Rugs & Furniture), first opened as a retail store in the city's South Granville neighbourhood in 1986. The company entered the wholesale market in 1999 and began to expand throughout Canada and the U.S., growing to eventually include 13 flagship and licensee locations.
Samieian says since the building – which is open to the public – has always been home to the brand's newest samples and products, it simply made sense to display the company's goods there permanently, adding the idea to open the showroom began percolating earlier in the pandemic.
Now, the space will host the company's private Vancouver Market, which is held twice a year with the next scheduled to take place on September 19.
"It actually kind of started during COVID because we couldn't travel to the US, so we created a show here at our retail location and it was very successful, so we made it a permanent thing," Samieian said, adding Moe's hosted its first show, which ran for three days, this spring.
"We had our first show in May and there was lots of new product that people got to see and a lot of that product will be shown [at the upcoming Las Vegas Market]. A lot of people got a head start on it. We had well over 50 accounts [attend]."
Samieian says the showroom will also host Western Living magazine's upcoming Designers of the Year award show on the second floor – an event expected to welcome over 300 people, adding the company expects the space will boast year-round viewing, appointments, special events and private tours.
"At over 30,000 [square feet], this space allows us to feature our newest introductions, expanded lines and curated selections while forecasting upcoming industry trends for the years to come," Samieian said, adding, "Additionally, this showroom is a chance for our partners, clients and design community from around the globe to collaborate more freely and effectively with our entire team at their disposal."
Since its own team often develops products anywhere from one to three years in advance, customers who visit the showroom can glean early insight into emerging trends.
"Our HQ showroom allows our teams to collaborate even closer with our clients," said Maura Dineen, Moe's product development manager. "We will be sharing our latest innovations and new introductions in an immersive showroom environment that will facilitate creativity, community and partnership."
As far as looks go, Samieian says the space was designed to be welcoming and modern. "We have high ceilings, lots of natural lighting. It's a comfortable experience. We're more of a destination and usually a customer will spend 30 to 45 minutes exploring the store and taking it all in."
Since the showroom overlooks the North Shore Mountains, natural elements have inspired the creation of the space, which includes plastered archways, a chair gallery, a built-in accessory wall, a bar and island installation and ample greenery.
"We built out rooms for meetings and we have limewash finished walls. We took inspiration from our High Point showroom and from our current showrooms, along with current trends. There are lots of floral arrangements, greenery, etc.," said Samieian. "People love it. It's a breath of fresh air when you walk up there. You get to see the latest trends, the latest designs."
Although it's extremely difficult to predict what will happen now that the pandemic-fueled demand is beginning to taper off and the world is facing fresh economic challenges, Samieian says the company is still enjoying robust sales.
"We're still seeing a good demand but it's slowed a bit compared to last year, but it's still higher than pre-COVID levels," she says, adding customers seem to be gravitating towards outdoor furniture, accent furniture and accessories.
Samieian is optimistic about the future and says Moe's is working hard to stay on top of trends and new technology.
"As of now, it's hard to predict what will happen six months from now, but we haven't seen too many bad impacts yet," she says.  "Our inventory is now in a good position, so we aren't having an issue like we were last year where a lot was out of stock. It's definitely improved this year for sure. We are and continue to invest a lot in our people and our technology and warehousing and product development. We're ramping up new products, so there will be a lot coming in 2023. We're releasing our 2023 trends in September, that'll give everyone an idea of new product coming out through next year."
She also says Moe's is in the process of updating its warehouse management system and has gained additional warehousing space. The brand is also launching a new B2B web site.
"That will be a huge improvement for our B2B customers when it comes to placing orders," she says, adding while the company currently has no plans to open any other brick and mortar locations, she's confident people will keep visiting showrooms in person.
"I don't think COVID is playing into people's attendance much anymore," she says.