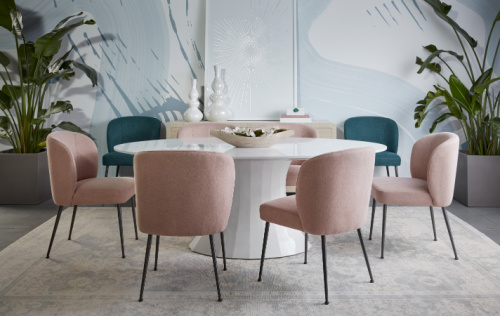 LVM Exhibitors Promise New Product
With a new year just kicking off, it makes sense Canadian exhibitors participating in the upcoming Winter 2023 edition of the Las Vegas Market (LVM) intend to show off a fair number of new products, particularly as the opportunities to do so have been severely hamstrung for the past couple of years.
The first of this year's two furniture, home décor and giftware events will kick off at the World Market Center here this Sunday (January 29) and run through the following Thursday (February 2).
"Our lines are always showcasing a new seasonal collection or introduction," Gary Christianson, sales and marketing director for modern furniture specialist Mobital (B-775).
At market, the Laval, Quebec-based producer will showcase its Puddle collection of occasional tables, which are inspired by a mid-century Italian aesthetic and shapes found in nature. The brand is also introducing the Tugg oval dining table with the same look and feel as well as the Moritz, a modular sectional sofa in alabaster and licorice boucle.
Meanwhile, full-line furniture resource SUNPAN (B-700) will focus on the outdoor furniture collection it kicked into high gear early in 2022.
"We'll be showing more outdoor furniture. Our really big focus is on anything that's new that's in stock," vice president of sales Carl Lovett told Home Goods Online. "The last few shows, people have been looking at product that was coming in three-to-six months later, so we want to make sure whatever they see, it's available now and they can get it in three-to-four weeks.
"All of our other categories, we're showing stuff that's in stock. Bedroom, occasional tables, dining chairs, bar stools," he continued, adding SUNPAN has been focusing on case goods and noting pieces comprised of mixed materials and lighter wood finishes are trending.
"That's been a big trend over the past few years – and Canada and the U.S. are very different. In Canada, people want lighter, natural oak finishes. That's been around for a while and it's sticking. You'll see a lot of new designs with light or unfinished oak."
Angelo 'J.R.' Marzilli, president of Décor-Rest Furniture (A-554) says retailer buyers visiting his company's showroom can expect to see new pieces – think sofas, love seats and other upholstery pieces – but not new categories.
"New products are a must but not new categories this market," he says. "Dealers are encouraged to visit our space to touch and feel them."
"Sealy Home is introducing multiple new categories," Frank Rinella, sales and marketing director for sofa bed specialist Sealy Sofa Convertibles (B-1028) reveals, adding. "We have recently moved into motion upholstery furniture consisting of sofas, loveseats, recliners, sectionals, and lift chairs. Also, for this market, we are introducing upholstered beds, sectionals and Trufit sofa beds."
While many people expect 2023 to be a good year, even if it's quieter in terms of the demand experienced in 2022 and 2021, some say real challenges lie ahead – especially with the uncertainty surrounding the developing COVID-19 outbreak in several regions of the People's Republic of China.
"Pricing negotiations have already taken place in the overseas production of goods and containers are now readily available at reasonable shipping rates," says Mobital's Christianson, highlighting the ways in which things have gotten easier for industry insiders.
"I do feel like it could be interesting after the Lunar New Year breaks in Asia. If COVID is being under-reported in China and there becomes a greater problem with illness and hospital capacity, then factories might not be able to perform at full production levels, causing further delays and lead times. Time shall tell," he observed.
SUNPAN's Lovett points out while some costs have come down, others have increased, leading to difficult choices when it comes to pricing goods.
"Everyone knows that ocean freight has come down, but inland freight and wages are up. Maybe this year, not everything will sell. There have been a lot of price increases due to ocean freight costs. Has inflation come down? That's a debate. Wages have not come down and that's a challenge everyone will have to face in 2023," he says.
He also believes the current COVID outbreak in China will likely have some impact on the industry.
"Every year, customers around the world put their orders in and they try to get goods out before Chinese New Year, but some didn't get orders early enough and some factories are not at 100% and some are closing because of COVID. You hear about issues at the ports as well," he says.
"It's definitely going to cause some delays that were not there two months ago. In a nutshell, the supply chain has been broken again," he continued, adding his company has been some improvement in the labour shortages that have plagued a host of industries since 2020.
"We're starting to see better quality candidates. We were struggling to fill roles all of last year, but I'm seeing that change in the last 60-90 days. Most big tech companies over hired and there are more people back in the job market again with better qualifications."
Decor-Rest's Marzilli expects consumer demand to wane and remain lower than than it has been over the past two years throughout much of 2023. "Lower consumer spending started a few months ago and is predicted to continue until Q3," he says.
Sealy's Rinella says price points – and an expected recession – will remain a challenge this year.
"The volatility of pricing of materials will be a challenge. Asia manufacturing has dropped off along with freight and that will drop pricing as end consumers are looking to spend less on furniture now that travel restrictions have been reduced," he says, adding, "We expect less furniture being sold overall in the industry as recession-like conditions set in and travel interests grow."
What will 2023 look like?
Although many people expect a host of challenges – COVID in China, cost increases, lacklustre economic growth, etc. – will make 2023 a less of a banner year, many are optimistic consumers will continue furnishing their homes in earnest.
"We are hoping to be optimistic in our sales projections with expected growth through new distribution channels and marketing strategies," says Mobital's Christianson.
Marzilli says 2023 will be the year Decor-Rest "eliminates" the disruptions common in 2021 and 2022.
Rinella simply says that Sealy's outlook for 2023 is "positive."
SUNPAN's Lovett expects a very good year as more people resume their pre-COVID habits, particularly travelling and dining out.
"Because we still do a lot of hospitality business, we're expecting to see double-digit growth still in Canada. Hotels, restaurants, common area spaces – anything non-residential," he says. "There are new restaurants opening up now. A lot of restaurants closed during covid, which left a lot of vacancies and now restaurants don't think they're going to get closed again. We're seeing new ones pop up and they need furniture.
"The first six months will be a little rocky for the industry, but overall, the year will be fine," Lovett continues. "Once the raising of interest rates has stopped, that's when you'll see things start to settle and improve."