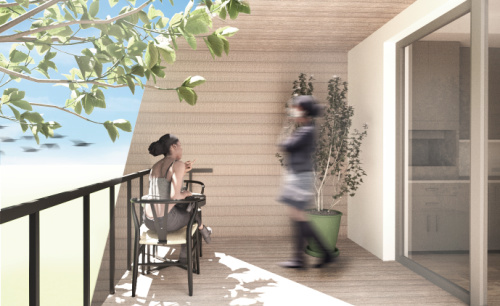 Co-living Concept will Rethink How Furniture is Made, Used
It's no secret housing has been top of mind – and not always in a good way – in Canada for several years now, with sky-high (but currently moderating) prices, limited inventory and buyer desperation making headlines almost weekly.
With the average home price in the Greater Toronto Area sitting at $1.2 million this past May, no one can blame prospective buyers for feeling discouraged. That said, one company has stepped up to offer people a new opportunity to become homeowners: co-living.
"We can't really take credit for the idea, people have been living like this for years," Joanne Lam, one of the founding principals at Picnic Design, an architecture and interior design studio based here, told Home Goods Online.
"Usually, it's done out of necessity or it's a cultural thing where you don't move out until you get married, but this is more intentional and we want it designed so that you have your private space that you need and want, but you also have a designated shared space."
Picnic showcased its Dare to Share co-living concept at this year's Interior Design Show (IDS) with a spacious, innovative booth that invited visitors to walk through a unique, comic book-style home and imagine themselves in a co-owned and shared house.
While the idea of a co-living space might evoke images of a rooming house or a dormitory, Lam says her studio is proposing something a little more unique – a house with private quarters (bedroom, bathroom, kitchenette and small living area) and common elements (a larger kitchen and shared outdoor space).
"Your private suite is not unlike a typical one-bedroom condo, but you share a kitchen for cooking large meals. The private space is a bit smaller but given the micro condos out there, it's comparable. The shared space is much more tailored and more generous," she explains, adding the concept could appeal to multi-generational families, seniors, adult friends and younger adults who want to invest in something different.
Lam also says buyers would be able to choose what common elements they'd like to see featured in their home.
"Multiple people have a say in their shared amenities. If everyone wants a mega space to play ping pong, they can have that. You have more of a say than in a 300-unit condo building. In a condo, you pay for a gym whether you go or not," she says.
When asked what inspired the concept, Lam said she and Picnic co-founder Eric Martin wanted to bring something present in some capacity in other parts of the world (and even Canada) to dense urban cities such as Toronto.
"We've been brewing this idea even before we started the company. I'm from Hong Kong and from a big Chinese family and my partner is from Northern Ontario, so he has experience with his extended family all hanging out at the cottage. We're both in Toronto and we live a very typical, middle-class family life and we both feel a lack of community and a sense of sharing that we would have normally gotten from our families and extended family. In our search for something, this coalesced with the housing discussions that we would have," she says.
As far as aesthetics go, Lam says co-living properties won't stand out from other homes in the neighbourhoods they'll occupy, even though their interiors will be quite different from the average detached house.
"The idea is that it does not look different from the outside. It will be a contemporary house. The inside is different," she says.
"[The house] is semi-private but then you get into your own unit that is private, so that sequence is quite different. It changes your behaviour, you can't just go in and toss all your stuff at the door, you have to take it up to your own space, although that depends on how the group lives."
Should the co-living concept take off, it could create more opportunities for furniture manufacturers.
"We do think that there may be more built-in furniture than is typical to maximize space and make it efficient, especially in the private suites. For those units, there will be interest in narrower tables and more condo-sized furniture. Built-in and multi-functional furniture would be something we'd look into," says Lam.
"The appliances will be there already. Ideally, we'd want to work with the [residents] so if they want a high-end, professional cooktop, that will become a feature. If the group doesn't care for that, that changes. There will be a lot of input from the group. It's not like we put together a package and you get the keys, it's a more involved design process and not a turnkey condo buying experience."
Picnic is already designing and planning to develop its first co-living project: Lappin House, which will take shape in Toronto's west end, will boast about 2,000 square feet of space and a laneway suite.
As for whether the concept of co-living is resonating with people, Lam says her studio has received a range of responses.
"We've had lots of different responses from people who said they could never live like that to people asking, 'where can I buy this?' and everything in between."
Ultimately, Lam says Picnic is hoping to get more people considering a new way of living.
"It's timely, given the whole housing discussion. We thought it would be good to let people know that there are other options. It's not just, 'do I buy a house or do I buy a condo?' There are other ways we can live and live well. We know it's not the silver bullet to save the world but there are other options, let's explore together."