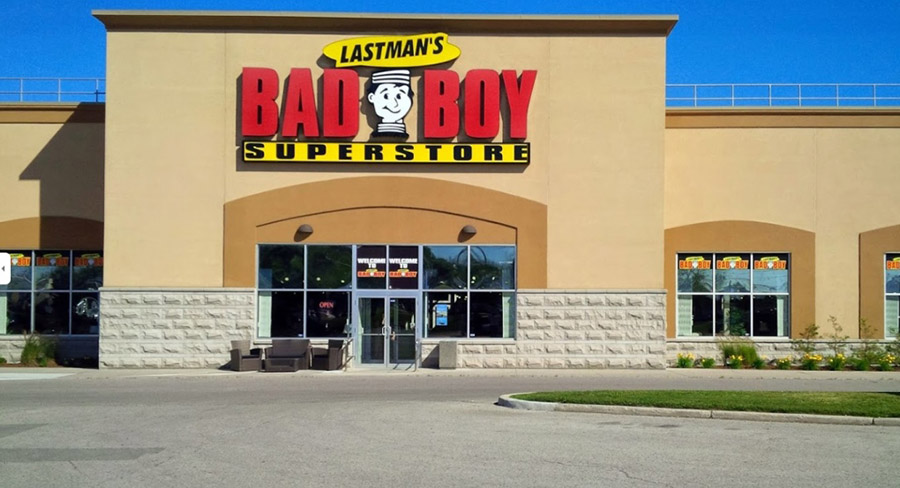 Bad News for Furniture Retailer Lastman's Bad Boy
Famed furniture brand Lastman's Bad Boy has hit hard times and filed for bankruptcy.
Founded by Toronto's former mayor Mel Lastman, and gaining global attention after receiving a 'cease and desist' notice from the White House during the Clinton administration, the retailer has decided to restructure its business, indicated by the filing of a notice of intent (NOI) under the Bankruptcy and Insolvency Act.
"The decision to commence these proceedings was taken after much deliberation," KSV Restructuring Inc., the trustee appointed by the Ontario Superior Court of Justice, said in a statement to customers. "Bad Boy believed it was necessary in the context of a challenging economic environment driven by high interest rates, declining sales in the housing sector and a tight retail climate, particularly in the home furnishing sector."
Toronto-based KSV Advisory, which describes itself as a boutique advisory, restructuring and valuations firm, said the retailer — properly known as Bad Boy Furniture Warehouse Ltd. — made the decision to begin restructuring proceedings on Nov. 9. The company is owned by Lastman Furniture Inc., which is wholly owned by Mel's son Blayne, the company's president, CEO and sole director.
According to reports KSV has posted online, Bad Boy owes approximately $13.8 million to its unsecured creditors, including major appliance brands Whirlpool ($2.4 million), Samsung ($840,924), Electrolux ($822,703), MC Commercial, the distributor of GE Appliances ($621,921), and LG ($404,410).
Several furniture manufacturers and distributors are also on the list of unsecured creditors, including upholstery specialists Sofa by Fancy ($1.35 million) and Edgewood Furniture ($334,734). Other furniture vendors listed are Kwality Imports ($475,302), Elements International ($334,734) and Manwah USA ($140,228).
The list includes one mattress producer. Toronto-based Owen & Co., operator of Kingsdown Canada and the producer of the Bassett brand of mattresses in this country, is owed $144,114.
Curtis International, the Mississauga-based distributor of television and other consumer electronics, is owed $185,016.
Additionally, Bad Boy owes $317,382 to RioCan Real Estate Investment Trust, which is the landlord for at least four of the 12 stores it currently operates throughout Ontario, in Mississauga, Burlington, Brampton and Kingston.
Bad Boy only lists one secured creditor, the Laurentian Bank of Canada, which is owed $4.4 million.
KSV's first report doesn't provide any insights into Bad Boy's sales but the trustee did note the company's 'builder business' — which supplies appliances to local developers building homes and apartment units — accounted for as much as 30 per cent of its business, with ordinary retail accounting for the balance.
While the retailer is continuing to operate, KSV admitted to the court several of its 'builder business' clients have cancelled their purchases and existing customers may face difficulties in securing their purchases.
"The company is considering a liquidation sale in certain or all of its stores so that it can wind-down the inefficient portions of its business in an orderly manner," the trustee reported. "The company expects to bring a motion in the near-term seeking approval of the terms of such liquidation sale and the retention of a liquidator."
Bad Boy also has $4.5 million in deposits from retail customers. These funds are not held in trust.
"It is the company's intention to advise its retail customers who paid deposits and who have not yet received their orders to contact their credit card company to attempt to obtain a refund of their deposits," the trustee said.
Bad Boy Furniture was established in 1955, and later sold by Mel after embarking on a lengthy career in politics.
In 1991, Blayne and his business partner Marvin Kirsh re-launched the chain, eventually renaming it Lastman's Bad Boy. In 2008, it was named Retailer of the Year by the Canadian Home Furnishings Association.
Earlier this year, the company moved into a new state-of-the-art headquarters and warehouse facility in the Toronto suburb of Pickering. The company has a workforce of 275 people.